My Sugarbush is all about the collective love of this mountain. You can read all about the full campaign, but I'm really here to talk to you about the contest. That's right, we're giving away tons of good stuff. Every week you take to the lifts and share your memories on social media with the tag #MySugarbush, and we pick out our favorites to give away that good Sugarbush schwag. Each post is thrown into a live mosaic that slowly reveals itself as the season progresses. The more you add, the more the image will come to life. Each week, I'm going to be sharing our favorite posts right here. From the winner to all the runner-ups, or just personal favorites – their stories will be here.
Our Top Posts
Ah yes, who doesn't love a good après moment?! Stephanie enjoyed the weather this week in the Lincoln Peak courtyard near the firepits. Some good ol' sun and spirits to end the day perfectly. We can only hope she enjoyed some complimentary s'mores (served daily)!
Hello, throwback! This was so exciting to see in the lineup for this week's submissions. It's always a pleasure to see guests returning year after year, to share their favorite mountain with their loved ones. Diane will never forget learning to ride with her friends as she continues to make stories that, as she says, "last a lifetime!".
Another lovely après shot shared by Roland at Mt. Ellen. It sure has felt like spring these past few days, and the Mt. Ellen Lodge deck is the perfect place to enjoy it! We've been loving these blue-bird days, but who's ready for more snow?!
Weekly Winner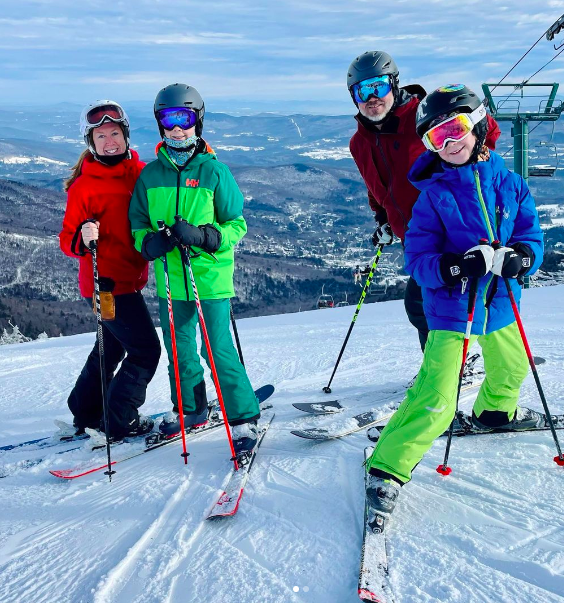 Emily and her family took their first runs of the season together this week! We love seeing families getting out together to create these memories. There's no better way to spend the holidays than with your loved ones, and we're continuously honored when you choose to do it here, at Sugarbush. This week, Emily's family won a $25 Sugarbush gift card along with a non-holiday lift ticket!
Prizes
Prizes will be awarded on a weekly basis from 11/19/22 – 5/7/23
Weekly Contest – winner gets a $25 Sugarbush gift card and non-holiday lift ticket
Monthly Contest – winner gets a $100 Sugarbush gift card and brand-new GoPro
Season Long Contest – winner gets a $500 gift card and a weekend ski or golf getaway for two (two nights in Clay Brook Hotel with two days of golf or skiing for two people, non-holiday)